Darktrace Immune System: Version 5

Version 5 of the Darktrace Immune System builds upon our core AI engine with new forms of automation, expanded coverage of the dynamic workforce, and enhanced flexibility for a seamless customer journey.
AI augmentation
Enhancements to autonomous response and automatic investigations
Workforce coverage
Extended visibility and protection across endpoints, cloud, and zero-trust services
Open architecture
100% cloud-based deployments and one-click integrations
Expanding autonomous response to SaaS
When the Darktrace Immune System detects an emerging cyber-threat, Antigena swiftly interrupts the attack with surgical precision, allowing normal business to continue.
With version 5, Antigena can now neutralize attacks in a wide variety of SaaS services, including the full Microsoft 365 stack, disrupting account compromise, insider threat and admin abuse.

Enhancing the Cyber AI Analyst
Cyber AI Analyst automatically triages, interprets, and reports on the full scope of security incidents, reducing time to triage by up to 92%.
Version 5 extends the reach of Cyber AI Analyst beyond network events to SaaS applications, cloud infrastructure, and cyber-physical systems. It also enables on-demand investigations into users and devices of interest, as well as seamless integrations with third-party tools.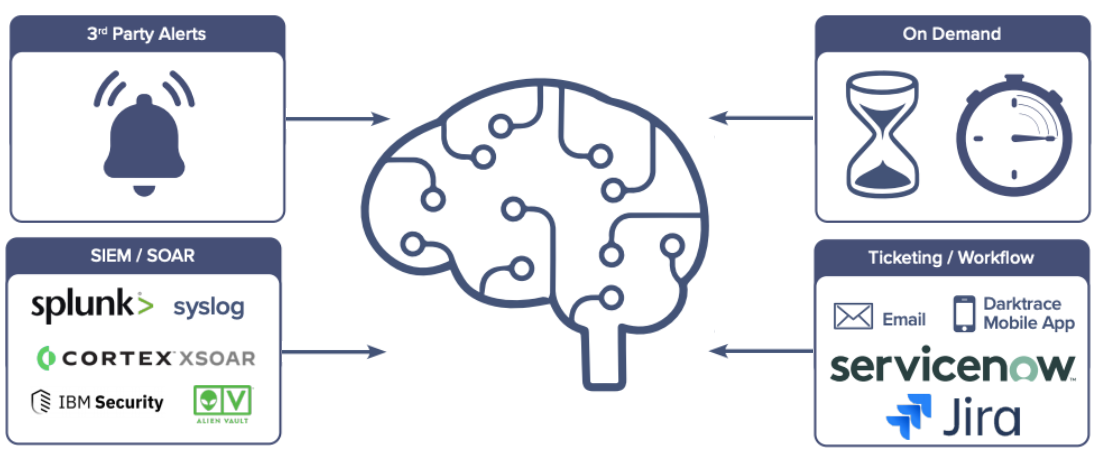 Client Sensors: Protecting the dynamic workforce
Client Sensors extend Enterprise Immune System visibility of the dynamic workforce on and off the VPN, delivered through lightweight agents and as a cloud-native solution.
One-click integrations
The Darktrace Immune System was designed with an open and extensible architecture that seamlessly integrates with cloud services and zero-trust environments.
Autonomous Cyber AI, delivered from the cloud
Delivery and expansion of the Darktrace Immune System is entirely flexible, with the option of 100% cloud-delivered deployments, or hybrid deployments that cover on-premise and cloud environments.